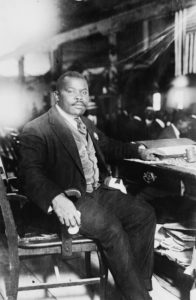 As islanders, Jamaicans have a surprisingly cosmopolitan outlook. The typical Jamaican is highly informed on world affairs due largely to media that report much on world affairs. Jamaica's educational system teaches and instructs on global occurrences and developments.  Nothing of import happens anywhere in the world without the typical Jamaican being aware of it.
It does not stop at awareness. Discussions and debates are the norm. Jamaica has a strong talking culture – on radio and television, in bars and churches, in offices and on sidewalks. And there are times when Jamaicans become vested in what's happening half a world away.
This is nothing new. Jamaicans, perhaps because international events have had outsize impact on the island, have paid keen attention to developments elsewhere, whether it be the Haitian, French or American revolutions, the two World Wars, the Communist Revolution, or the American Civil Rights movement.
That more than 90 percent of Jamaicans are of African ancestry makes Africa of special interest. Jamaican Baptists, for instance, started sending missioners to Africa in the 1840s, just a few years after the end of enslavement in 1838. In 1878, The African Repository, Volumes 51-5, published by the American Colonization Society, reported:
[Jamaica] is training hundreds of the most capable as well as the most aspiring of her black population to lead as teachers, merchants and planters, in the numerous trading and missionary stations now in course of preparation for permanent settlement in Africa. The wealthier classes of Jamaica – her capitalists and great land-owners – do not wish to part with the working men of the island, nor will many of that class go to Africa, but it is the educated and ambitious young men of the country who will seize upon the vast field opened to them by the late explorations.
The report cited Calabar and Mico colleges, along with government educational institutions, as the schools primarily responsible for preparing persons for settlement in parts of Africa, such as Liberia.
From the early 20th century onwards, no personality was more influential on African psyche than Marcus Garvey, Jamaican National Hero. Sabamya Jaugu, writing for the African Manifesto, asserted:
Garvey's legacy has influenced the careers of leaders who pioneered African independence, ranging (for the sake of brevity only a few are listed) from Kwame Nkrumah of Ghana; Julius Nyerere of Tanzania; Sekou Toure of Guinea; Jomo Kenyatta of Kenya, Patrice Lumumba of the Congo; to Nelson Mandela of South Africa. Marcus Garvey is the father of African Nationalism.
The indigenous Jamaican religious movement, Rastafari, inspired by Garvey, is heavily Afro-centric. It gained gradual influence on Jamaican consciousness, if not widespread adherence, and focused the country's attention on the plight of Africa and Africans.
It was not surprising, therefore, that African quest for independence and self-determination in the mid to late 20th century would pique Jamaicans' interest. Some Jamaican artistes vicariously reflected the experiences of those who fought for freedom on the African continent. Peter Tosh sang in Apartheid:
Inna me land, quite illegal
You inna me land, dig out me gold, yes
Inna me land, diggin' out me pearl
Inna me land, dig out me diamond
We a go fight, fight, fight
Fight 'gainst apartheid
We got to fight, fight, fight
Fight 'gainst apartheid
You inna me land an' you build up your parliament
You inna me land, you build up your regime
You inna me land, only talk 'bout justice
You inna me land, handin' down injustice
You inna me land, you no build no schools for black children
You inna me land, no hospital for black people
You inna me land, you built your prison
You inna me land, you built your camp
Bob Marley in his song, Zimbabwe:
Every man gotta right to decide his own destiny
And in this judgment there is no partiality
So arm in arms, with arms
We'll fight this little struggle
'Cause that's the only way
We can overcome our little trouble
Brother you're right, you're right,
You're right, you're right, you're so right
We gon' fight (We gon' fight)
We'll have to fight (We gon' fight)
We gonna fight (We gon' fight)
Fight for our rights!
Natty dread it in-a (Zimbabwe)
Set it up in (Zimbabwe)
Mash it up-a in-a Zimbabwe (Zimbabwe)
Africans a-liberate (Zimbabwe)
Thobile Hans, writing for Forbes Africa, interviewed persons who were involved in and who studied what happened in the struggle for freedom in Zimbabwe. Fred Zindi, a professor at the University of Zimbabwe, told him:
During the years of Chimurenga (chiShona for uprising), Bob Marley's music had been adopted by the guerrilla forces of the Patriotic Front; indeed, there were stories of ZANLA troops playing Marley cassettes in the bush. Certainly, Marley's music has potency and a commitment which goes far beyond simple entertainment. He now enjoys a special place in Third World culture; an artist who directly identifies with the black African struggle. Thus, he was the only outside artist asked to participate in Zimbabwe's independence celebrations.
Shadrack Gutto, a University of South Africa professor and constitutional law expert in South Africa who taught 12 years in Zimbabwe, said of Marley:
His songs were the food that people in liberation movements, particularly the armed wings, were swallowing. From that point of view… to be able to see that music was an important aspect of the liberation of this continent. Bob Marley, like Amilcar Cabral (the first president of Angola), articulated so well the importance of the role of culture and music in the liberation struggle.
Jamaica was, along with India, the first to impose economic sanctions on apartheid South Africa, doing so in 1957, banning trade and travel between the island and the racist-run country. A brief account by the Permanent Mission of Jamaica to the United Nations states:
Jamaica's commitment to the principle of human rights and to a philosophy of "international morality" is exemplified by our stance on apartheid and racism. Jamaica was at the forefront of the international campaign against apartheid in South Africa…. The first country to declare a trade embargo against South Africa, was Jamaica, as early as 1957 even while the island was still a colony of Britain and thus without responsibility for its external relations. Jamaica consistently and unequivocally opposed apartheid and supported all United Nations' decisions aimed at its elimination.
Theo-Ben Gurirab was minister of foreign affairs of Namibia from 1990 to 2002 and prime minister from 2002-2005. When former Jamaican Prime Minister Michael Manley died in March 1997, Gurirab wrote:
As Prime Minister of Jamaica, Comrade Michael Manley had the presence of mind and wisdom in assisting SWAPO (South West Africa Peoples Organization) to build up technical capacity during the struggles by helping us to train many young Namibians in various fields in his country. Today they are productive citizens and destined to become future leaders. SWAPO could always count on Jamaica in various international fora.
Jamaica trained Namibian revolutionaries fighting for freedom! In Jamaica!
When Namibia held its first free elections in November 1989, the island sent 29 police officers as part of a United Nations international peacekeeping force.
At a special meeting of the UN General Assembly in October 1978, Manley was among seven global personalities, including former heads of government Gamal Abdel Nasser of Egypt, Jawaharlal Nehru of India and Olof Palme of Sweden, to receive awards "in recognition of their contribution, in cooperation with the United Nations, to the international campaign against apartheid."
Jamaica's support for Africa has been acknowledged by some leaders. A few have made the trek to the island to see the land where Garvey and Marley and Tosh came from. Veront Satchell provides a list:
 Among these visiting leaders are Haile Selassie I, the last emperor of Ethiopia, in 1966; Julius Kambarage Nyerere, independence leader and then-president of Tanzania, in 1974 and 1977; Kenneth Kaunda, then-president of Zambia, in 1975; Samora Moises Machel, revolutionary leader and then-president of Mozambique, in 1977; Archbishop Desmond Tutu of South Africa in 1986; Nelson Mandela, the first black president of South Africa, in 1995; Robert Mugabe, president of Zimbabwe, in 1996; and Jerry Rawlings, president of Ghana, in 1997.
With the passing of Winnie Madikizela-Mandela, who died on April 2, we remember the tribute paid to her in song by Jamaican Carlene Davis. Released in 1987 at the height of the anti-apartheid struggle, the song shared the pain and hopes Jamaicans felt for South Africans:
There's a woman fighting for
freedom down in Africa
In prison is her distinguished
husband Nelson Mandela
Her natural beauty is like the rising sun
In a matter of time both will be gone
So rise up sister, rise to your call
Any day now apartheid's got to fall.
Eron Henry is author of Reverend Mother, a novel. Ole Time Sumting blog was recognized with an Award of Merit by the Religion Communicators Council in April 2018